Forage fish are a linchpin of marine food webs. These small schooling fish and invertebrates feed larger predators, including seabirds, marine mammals, cod, halibut and tuna. Forage species include bony fish, like sardines, anchovies, mackerel, herring and capelin, as well as invertebrates like krill and shrimp.
Together, they support some of the world's largest fisheries, either directly as a harvested species or indirectly as prey for commercially important fish. In fact, forage fish make up between 20 to 30 per cent of all wild-caught fish globally.ϔ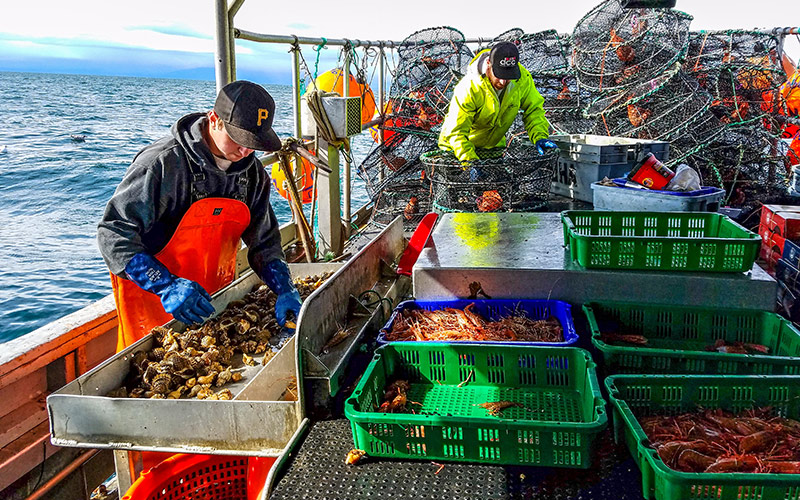 These essential contributors to ocean ecosystems and Canada's ocean economy face serious threats. Of the forage fish that are harvested commercially in Canada, there are few healthy populations — and none in Atlantic Canada. Some of that is caused by environmental conditions. But a significant portion of the blame lies in overfishing. Over the past five years, quotas for depleted forage fish have been set too high, when lower fishing levels would have promoted rebuilding more quickly.
For example, capelin serves as an important food source for many species off the coasts of Newfoundland and Labrador, including northern cod, humpback whales and seabirds. Historically, the northeast Newfoundland and Labrador capelin stock sustained an abundant fishery, but it collapsed in the early 1990s. Today its population is at only six per cent of pre-collapse estimates. Despite those dangerously low numbers, DFO continues to allow a capelin fishery to operate.
Species like capelin, herring and mackerel are far more valuable in the ocean than in the net.
Meanwhile, Atlantic mackerel has been in the critical zone since 2011. However, because the widespread recreational and bait fisheries have little to no monitoring or reporting requirements, DFO simply doesn't know how much is being fished.Ϡ This uncertainty makes it difficult to set meaningful targets or timelines for rebuilding.
The good news is that DFO does have a policy for managing forage fish that uses an ecosystem-based management approach. But the policy currently applies only to new fisheries, not existing ones, like mackerel and capelin, leaving many major forage fish stocks without clear guidance for management decisions.
As it should for all stocks, DFO must stop harvesting depleted forage fish stocks. It must also set a minimum biomass threshold for the number of fish that must be left in the water and a maximum cap on harvest levels, informed by the best available science. And because forage fish support so many other fish, DFO must take a much more precautionary approach than it does for conventional fisheries.
Atlantic Mackerel: Monitoring Failures Undermine Rebuilding Valuable and Depleted Species
Atlantic mackerel is a forage, or prey, species, providing food for other fish, marine mammals and seabirds. It's a culturally important food, social and ceremonial fishery for Indigenous communities; a recreational fishery in the Maritimes; and valuable bait in lucrative lobster fisheries.
And it's critically depleted.
DFO's attempts to rebuild the population are severely hindered by the fact that we do not know how much mackerel is being fished. There are no fishery monitoring or reporting requirements and no estimates of removals for the recreational fishery. Only recently have bait harvesters in some areas been required to submit landings records.
The resulting uncertainty around total removals limits DFO's ability to set meaningful timelines and targets for rebuilding the stock. To rigorously manage this vulnerable and valuable species and limit all sources of fishing mortality, we need the data that comes from stronger monitoring.
Learn more at www.oceana.ca/en/publications/
reports/counting-fish-why-fisheries-monitoring-matters.